The Shift Conference by Infobip, held in the charming city of Zadar at the Krešimir Ćosić Hall, brought together a huge crowd of developers and industry experts. The event was a unique blend of knowledge-sharing, networking, and even a dash of Spice Girls nostalgia at the afterparty.
John Romero, renowned for his pioneering work in gaming, opened the event with a captivating talk about the making of DOOM. Attendees had the privilege of viewing a pre-alpha video of the game, gaining insights into the development process behind the iconic first-person shooter.
Romero gave a great kick start of the event and paved the way for the diverse themes that would follow. 
The AI Invasion: Shaping the Future
One of the recurring themes of this year's conference was the profound impact of artificial intelligence on the industry. Speakers dived into the AI realm, discussing its future, challenges, and opportunities. In his presentation titled Software 3.0 and The Emerging AI Developer Landscape, Shawn Wang delved into the shifting tides of the tech industry. 
He specifically addressed the prevailing concern about AI potentially displacing developers from their roles, a notion he firmly rejected. According to Wang, the future tech landscape will remain heavily reliant on developers and engineers.
He highlighted the ever-increasing demand for applications and products driven by artificial intelligence, underscoring the continued growth in this domain. As AI becomes an integral part of our daily lives, the need for experts who can bridge the gap between AI research and practical application becomes increasingly crucial.
Wang's perspective emphasized the enduring importance of skilled professionals who can harness AI's potential and ensure its seamless integration into various aspects of our digital world.
AI is a fascinating technology that holds endless potential, and we're seeing it become a bigger part of our lives every day. Personally, I'm eager to discover where it can lead us.
Low Code Development: Breaking the Stigma
Amanda Martin talked about the intriguing landscape of low-code platforms and the perceptions surrounding them. While historic debates have witnessed developers divided into cynics and enthusiastic support, Amanda urged us all to recognize the valuable benefits that these platforms bring.
Low-code platforms are undergoing a dynamic transformation, establishing themselves as a lasting presence within the industry. While they may not be suitable for every large-scale project, their adaptability is remarkable. 
Amanda works at Wix so she used it as her example but in this article let's take WordPress as an example – since it's a tool we built our development team on – to showcase its remarkable versatility. 
In some cases, WordPress can function as a near-no-code platform, enabling rapid and cost-effective website development. Utilizing pre-designed themes and infusing them with personalized content and minor adjustments can be a practical solution, especially for modest businesses less focused on intricate digital presence.
However, developers would never recommend this. From my experience, it usually ends with a developer attempting to salvage and upgrade sites developed in this manner when clients eventually seek professional assistance. The investments of time and potentially even premium theme purchases could end up a waste as themes may cease to receive updates, plugins may lose compatibility, and developers may spend excessive time unraveling the resulting mess rather than crafting a fresh, simple website.
WordPress can also serve as a low-code to higher amount of code used platform. Here, code is employed for fine-tuning the theme, addressing scenarios where for example WooCommerce stores necessitate changes in default behavior via PHP or JavaScript. This approach grants superior control over website and even allows transitioning from minor theme adjustments to constructing an entirely bespoke site from scratch. 
WordPress has boundless potential and flexibility, empowering the creation of intricate frontend designs, encompassing custom animations, contemporary layouts, and adaptable elements. Furthermore, its backend is highly customizable, enabling seamless integration with numerous APIs and other technologies. With expertise, this low-code platform can be meticulously tailored to fulfill specific client requirements.
Headless WordPress is an intriguing alternative that retains WordPress's backend while letting go of the traditional frontend. While it forsakes the WYSIWYG ease of use, it liberates developers with unrestricted coding functionalities and frontend flexibility. This approach offers the advantage of selecting the desired frontend technology, optimizing website speed, and enjoying complete coding freedom. It should be noted, however, that Headless WordPress may not suit every project due to its complexity, making it an excellent option for those seeking a wealth of possibilities.
Low-code tools like WordPress are as versatile as one desires them to be. They offer a vast spectrum of possibilities that can be finely tuned to cater to specific project requirements. We should let go of any lingering stigma and embrace these tools in the dynamic realm of development.
Front-End Evolution and Frameworks
Tajas Cumar took the stage to discuss New Trends in Front-End Development. He provided insights into emerging frontend frameworks like Astro and Qwik, offering a live preview and demonstration. Tajas also compared React, Vue, and Angular, helping attendees make informed decisions in this ever-evolving landscape.
Web Development Superpowers
Christian Bach explored How Web Developers Gained Superpowers by discussing new tools that have transformed the web development experience. These tools have opened up new possibilities for developers, revolutionizing the way they work.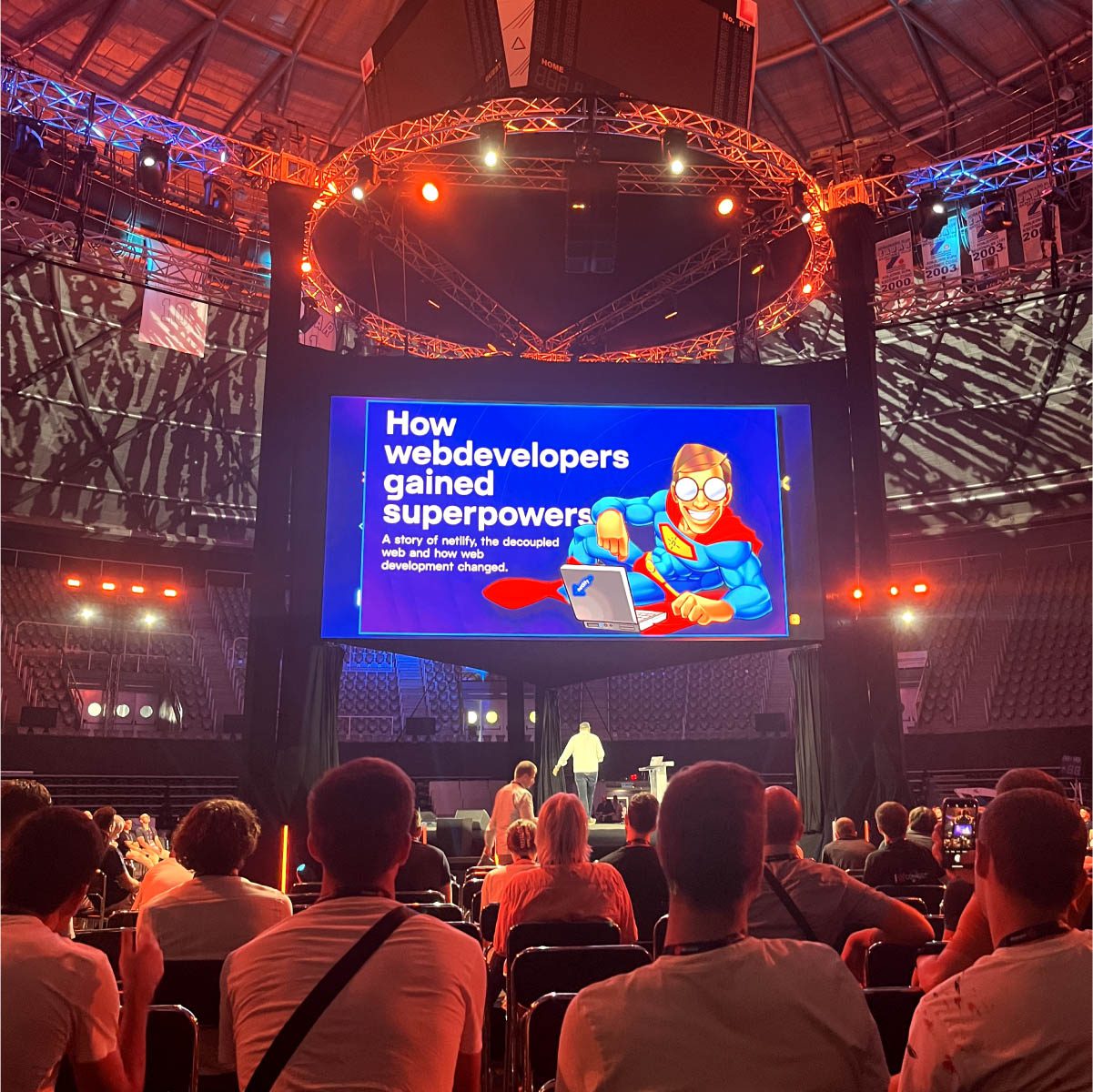 A Conference Beyond Learning
Shift wasn't just about absorbing knowledge – it was an event that catered to every aspect of attendees interests. The organizers ensured that breaks were filled with exciting activities like the Porsche driving experience, pinball, basketball, and various games, adding a fun twist to the event.
The conference was not only about the presentations but also the connections made with colleagues from around the world. Zadar provided the perfect backdrop for this gathering, with its sunny weather and picturesque surroundings.
We left inspired, full of fresh ideas, and reminded of the importance of remembering why we even started in this industry. Sven Peters' presentation on "Developer Joy – How Great Teams Get s%*t Done" served as a fitting reminder not to forget to have fun!
In the end, Shift Infobip 2023 was a true celebration of the ever-evolving world of technology and development. And, of course, it was cool to witness even the most serious developers letting loose at the afterparty, belting out pop hits – now that's an accomplishment!